JIMMY GETS A MASSAGE
Observing Jennifer Streit Work Her Magic
by Rondi Lightmark

Jimmy is a part Pit Bull/Lab who was rescued from the streets of Seattle about seven years ago. He now lives on Vashon Island, where he loves to run madly on the beach, especially after about 30 seconds of immersion in the icy waters of Puget Sound. Sort of a "Yikes!" reaction that can take him into about 3 minutes of joyful romping. An occasional ball thrown down the hall will also cause a thrill, but otherwise, he's a pretty sedate sort of guy.

After running, he can often be stiff for the next 24 hours. And he's getting old and groans sometimes when he lies down.

He'd never thought a massage was for him. But then Jennifer came to visit.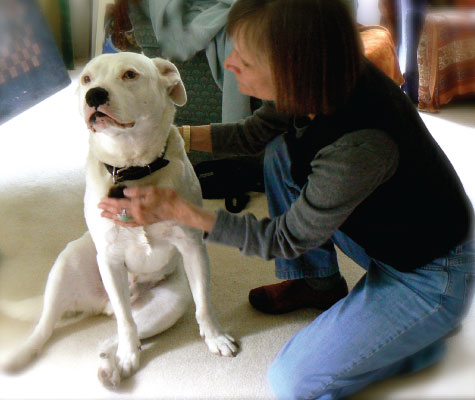 1. As you see in this picture, Jimmy is in listening mode. Sort of, "Hmmm. I might be okay with this. Jennifer is calm, takes things slow, lets him go at his own pace.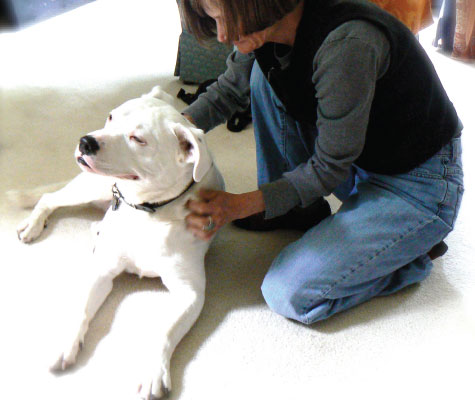 2. About 10 minutes later, Jimmy's down and his ears are back and relaxed, his eyes soft. And there's a smile happening at the corners of his mouth. Jennifer puts me in a trance too, just watching her. The whole room has gotten quiet and peaceful.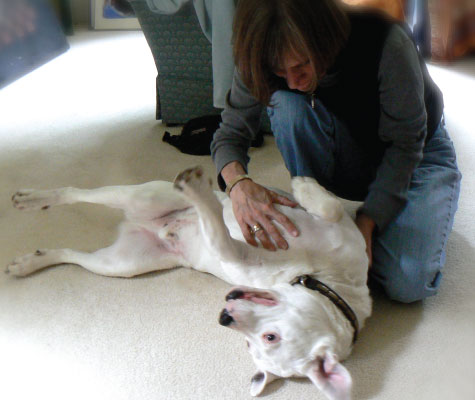 3. Jimmy's in ecstasy! Wide open to Jennifer, a happy, happy puppy. She keeps a quiet, thorough rhythm, just working with intent and gentle caring, all over his body, picking up on his sore spots, maintaining a calm and easy presence.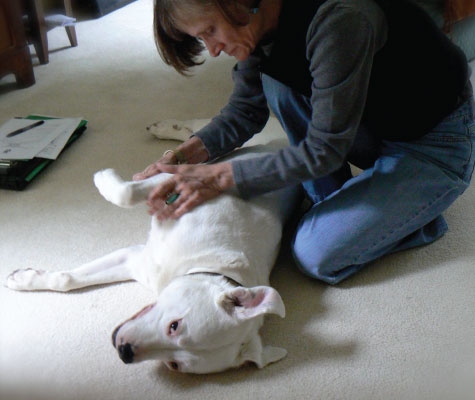 4. A beautiful shot – Jimmy's all mellowed out. And Jennifer is beautiful in her loving touch.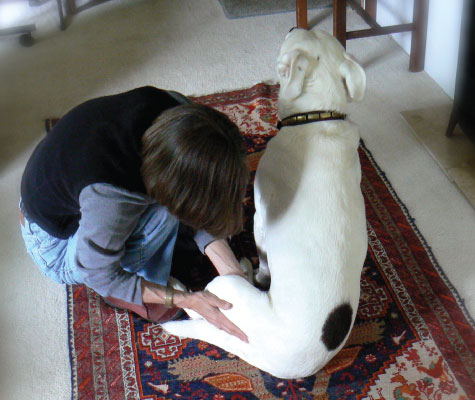 5. Ditto – he's up again, and look at his ears, all hanging down like they're melting down his back. This is his sore side (he blew out his knee on one of his beach gallops), and he's trusting completely.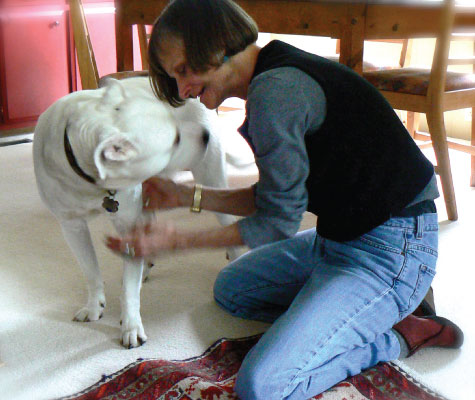 6. Nearing the end. Jennifer has made a friend for life.